DNA Consultant
Get Our Full Suite of Behavior Tools
Behavior and Money Insights
Our cloud-based app reveals inherent behavior styles as well as money attitudes. No other tool addresses the money aspect of human behavior. This combined information gives business coaches and consultants an incredible advantage when helping their clients.
Elevate Your Practice With Insights
Key Features
Behavior and Money Insights in One Platform
Optimized for Coaches and Consultants
Fixed-price Subscription to the Entire Suite of Behavioral Tools
Custom Reports Curated for Your Own Audience
White-label System Ready for Your Logo and Branding Colors
Smart Tagging and Labeling to Categorize People
Affiliate Partnership Program to Earn Affiliate Revenue
Modern, Easy-to-Use Interface
Customizable Dashboard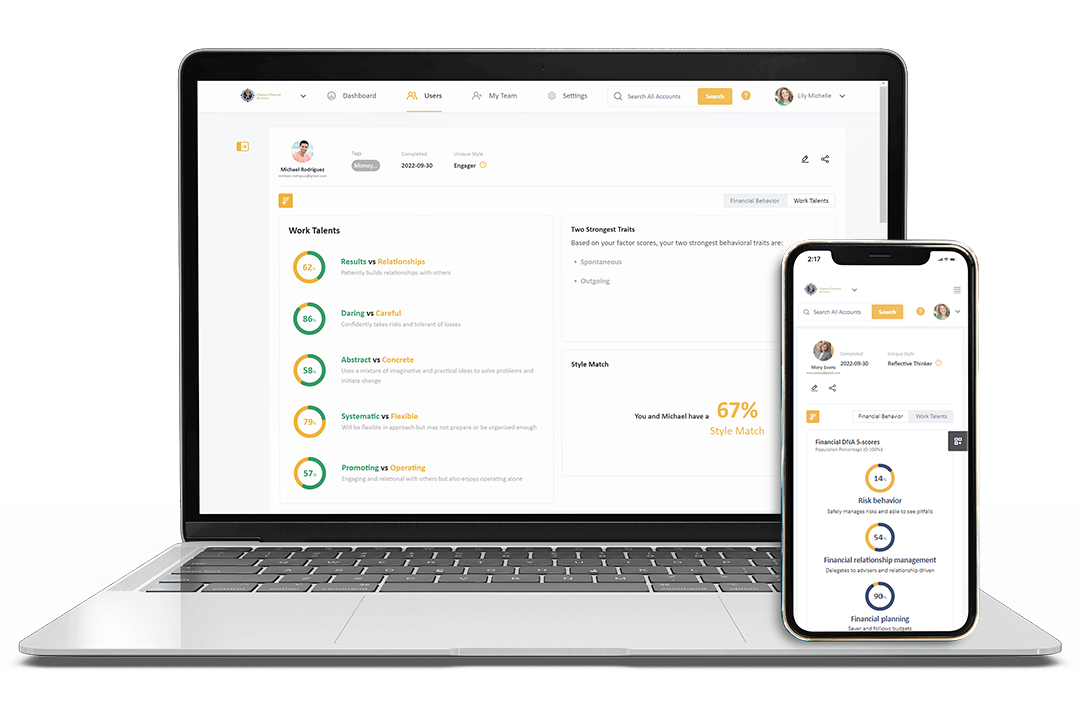 Why Wait to Energize Your Practice?
If you've seen a demo of our tools in our original app, you'll be excited to see the significant enhancements we've made. When you register for an account, you'll have access to built-in case studies to use as a starting point in building your own customized experience. The colorful new modern interface makes it incredibly simple to use. You'll find tools to label and categorize people according to how you met, where they work, etc. With just a few clicks, you can create colorful charts and comparison reports. The user-friendly dashboard puts shareable insights at your fingertips.
*You can start your 14-day, no obligation trial today!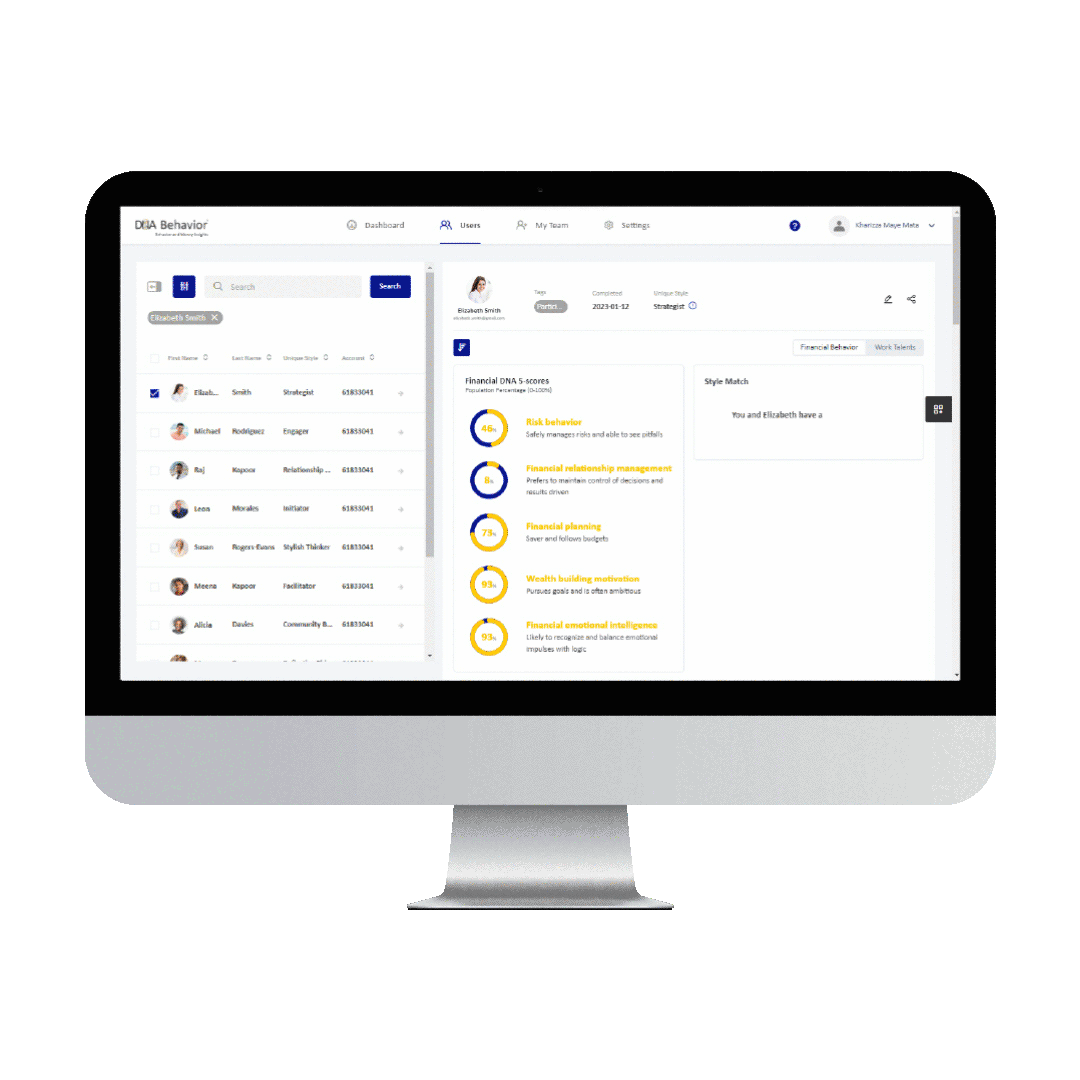 Webinars
Our ultimate mission is to empower people with self-awareness. We regularly present webinars that delve deep into behavior topics. Our Webinars page is the place to register for an upcoming webinar or view those that we've done in the past.
Talk to Us
Sometimes the easiest way to find out if a product is for you is to speak directly with someone. Whether you'd like to schedule a personalized tour of the app, or you want to discuss your unique business needs, giving us a call is a great place to start.
Download Articles and White Papers
Our collection of writing on behavior and money energy topics is extensive. Information on key topics has been curated and saved to PDF format for your convenience. The following four topics may be of particular interest to business coaches and consultants, but all articles and white papers listed on our website are free to download.
Organizational Culture
Scientific Validation
Building a Client-Centered Business
Mastering Entrepreneurial Talents
What Behaviorally Smart Business Leaders Are Saying

"If I had had this, if I had known, how different would my life be! I use behavioral superpowers in my classes, mentorships, masterminds, and pretty much all aspects of my life. Everything starts with the behavioral superpowers because without that, we don't know who we are dealing with. But with that, I can help and coach people to uncover their superpower."
Kenyatta Turner
Founder & CEO, Freedom Empire Consulting
Learn More
If you want to gain a more in-depth understanding of any topic covered on our website, be sure to visit our Resources page. There, you'll also find an assortment of other useful material, including our Knowledge Base and Client Stories.
Try Before You Buy!
No credit card. No obligation. No pressure.
The best way to understand the value of our solutions is to try the DNA Natural Behavior Discovery Process for yourself. If you like what you see, you can extend your personal discovery to a free 14-day subscription trial for your business.
What are you waiting for?