Consulting
Services
Connect with Our Behavioral Experts for Product Training, Implementation, and Performance Improvement
Building Behavioral Expertise
Our behavioral science experts are here to help you discover, measure, and manage the hidden influences of behavior and money energy forces which impact performance. They will provide the level of support you need to make behavior and money insights an integral part of your organization. Our team can work with you or for you.
We have talented trainers, facilitators, coaches, and consultants who are adept in applying the 4,000+ behavior and money insights that we measure. We deliver a range of consulting services aimed at helping people make smart decisions in all areas of life and business including work, leadership, marketing, entrepreneurship, family, financial planning, investing, and planned giving. Training is available for those who wish to become a DNA Behavior Practitioner as well as those who desire a deeper understanding of one or more focused areas.
DNA participants can achieve greater alignment to their natural talents and behavior styles, as well as build an improved relationship with money.
We'll show you how to stress less, do more, and be well for longer!
GET EXPERT GUIDANCE
Customizable One-on-One and Group Programs
The DNA Behavior systems can be used to meet a wide range of business, family, and personal development goals. We provide one-on-one and group programs that focus on the areas you choose. We cover hiring, team and leadership development, personal growth, financial planning, family succession planning, as well as designing and customizing solutions to meet your unique needs. No matter what level of support you need, we can guide or assist to get you comfortable with using behavior and money insights.
Accelerate Growth With Behavioral Marketing
Research shows that the key to acquiring new clients and re-engaging existing ones is to make them feel understood and emotionally connected as early as possible. That requires knowing who the client is at a level far deeper than can ever possibly be provided by the traditional use of personal marketing models that rely only on demographic and financial big data. Having the prospects use the DNA Quick Scan (11 Question) Discovery is a quick and easy way to enable the production of behavioral data, like the liquid gold that has been missing for creating hyper-personalized experiences on a mass-scale basis.

We work with marketing and sales team leaders to design a program and workflow that builds in the deployment of our behavioral technology.
Our tech allows you to:
Deepen the levels of segmentation for enabling the customization of solutions offered

Provide customized communication keys for every participant

Utilize customized marketing and sales scripts

Leverage Market Mood indicators to tap into gauged client sentiments towards markets and economic conditions

Use style matching for aligning prospects and clients with the most suitable relationship managers
Managing Behavioral Variability in Organizational Decision-making
A significant business challenge for CEO's and leaders is the financial cost, brand risk, and governance risks of highly variable decisions being made by different executives and advisors for similar transactions and situations. Research shows that the variances for similar transactions (such as in hiring, risk assessment, pricing, claims, valuations, diagnosis, and the like) are often between 30% to 70% and are caused by systemic behavioral biases and random noise elements.

Our Behavioral Variability program will help your organization identify, audit, measure, and manage the inherent behavioral variability because different people make decisions with different behavioral styles.

Further, our solutions to the problem will include the use of behavioral technology, organizational systems design, training, and digital twins. The digital twins will involve cloning the decisions of the best decision-makers using artificial intelligence technology.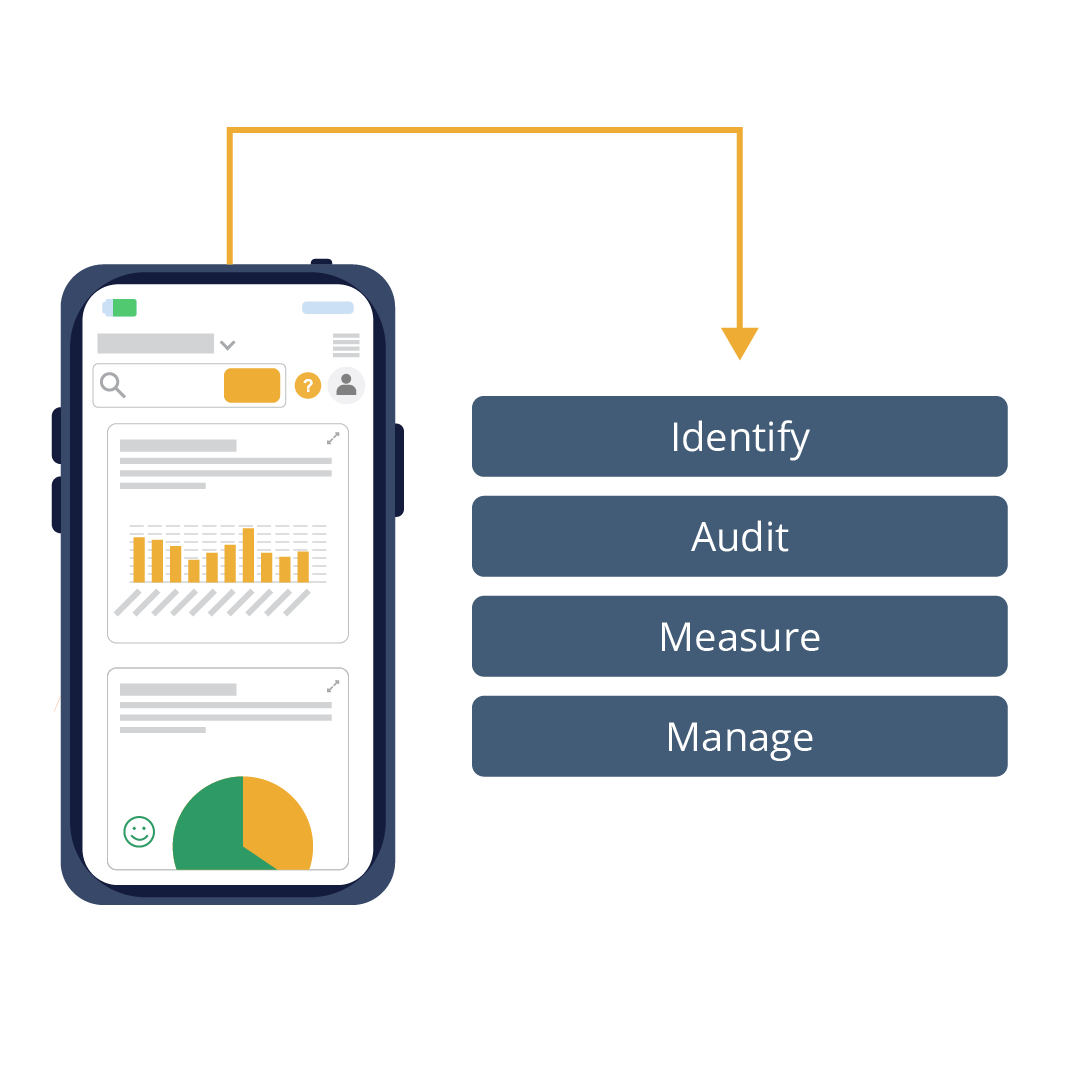 Business Performance Optimization
We work with growth-minded leaders to optimize the performance of the organization, business unit, or team they are responsible for managing. We help them implement strategies that transform the organizational culture and business model so the employees and clients become the top priority in every action and interaction. Our approach, technology, and the depth of behavior and money insights allow for the easy implementation of hyper-personalized employee and client experiences at scale.

Our services help equip leaders to manage the delicate balance of achieving enhanced results (revenue, productivity, and profitability) with a more relationship-based operating environment (engagement, trust, and loyalty).
Our services include:
Performing detailed performance and segmentation analysis of results and behaviors across employees and clients to identify issues that are hidden deep below the service

Leadership, team, and talent development based on behavioral identity and money motivations to improve revenue generation, productivity, interaction connectivity, and culture

Enhancing client service by matching sales and advisory teams to clients, improving communication, and offering more suitable solutions

Diversity management so that more sales opportunities are opened up and a more inclusive culture is developed

Deployment of behavioral management, monitoring, and marketing technologies, as well as digital twins to improve consistency in decision-making
Unleash Your Quantum Leap Capability
If you are an entrepreneur, CEO, leader, advisor, coach, or any other growth-minded person seeking to radically change the trajectory of your life and business, there is nothing more important than the health and fitness of your heart and brain. The heart and brain are the ultimate technologies for your long-term success. Our in-depth DNA Quantum Leap program will help you build greater behavior and money-consciousness to eliminate the primary impediments that flow through every dimension of your life and business whether you are looking to expand, exit, or make a high-stakes decision. Our carefully curated program addresses the following key components which will help you achieve performance beyond exponential growth:
Quantum Leap Capacity Expansion


Authentic Identity Empowerment

Quality Life Longevity

Money Energy Amplification

Business Performance Acceleration
Our programming can be customized to include the consulting services modules at the bottom of the page.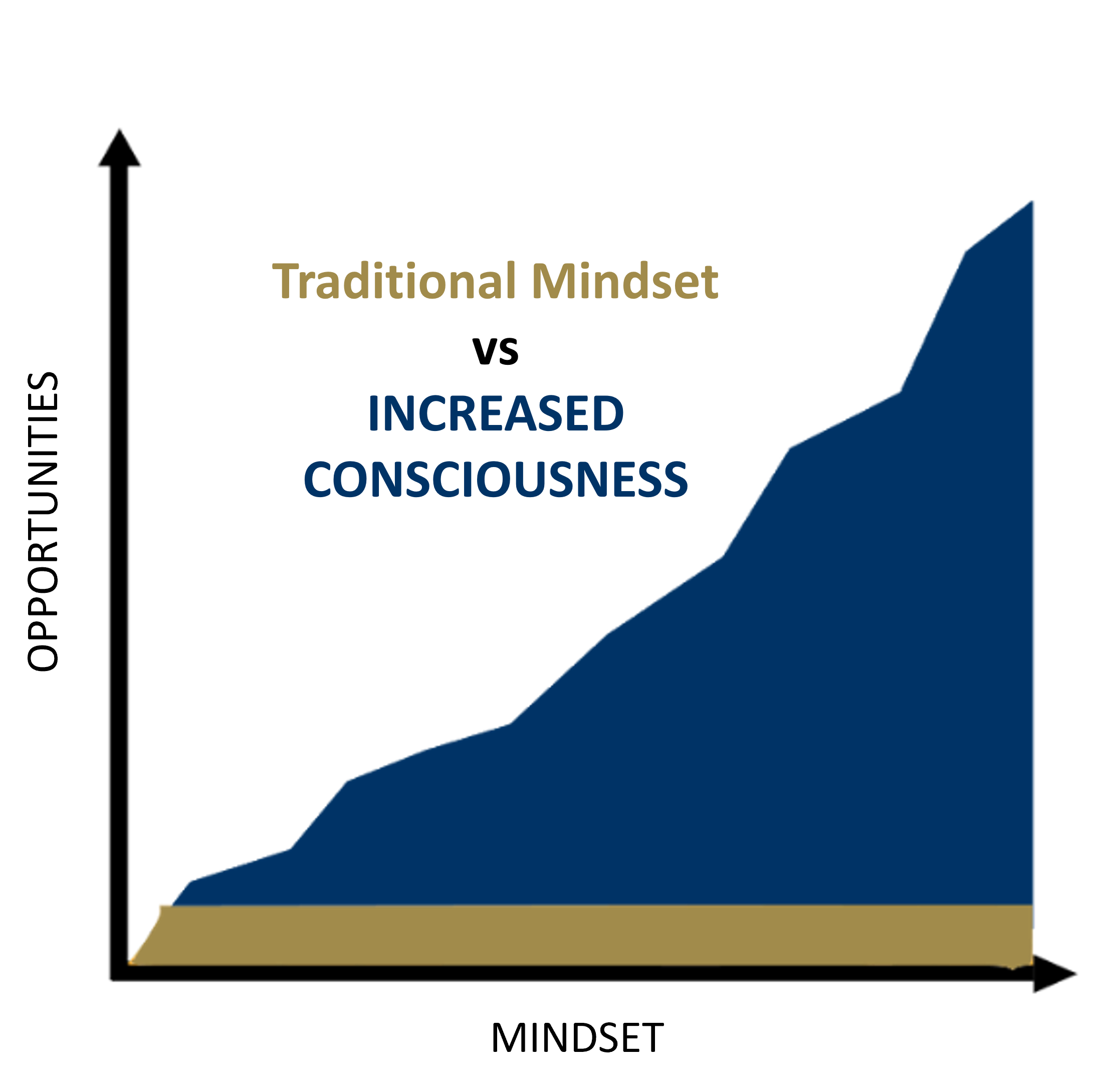 Behavioral Merger and Acquisition Review
Many M&A deals fail not because of the fundamentals of the business or changed circumstances but because of the people involved on all sides of the transaction. The behavioral talents and financial behavior of the CEO and the senior leadership team largely drive the value of a business. Not knowing who you are investing in can be a cardinal mistake if you are an investor in a business.

Using our extensive repository of over 4000 behavior and money insights, we can:
Review the financial behavior style of the CEO and leadership team to determine the financial value they will create

Assist the investors to better manage their behavioral biases and decision-making processes

Perform an audit to reconcile behavior-driven financial value against projected financial fundamentals

Provide performance coaching to the CEO and leadership team so that they adapt their strategies, execution, and operating habits to optimize financial value

Integrate new leadership and teams together to optimize business performance
The following services are delivered as separate projects or as part of one of the programs above.
Hiring
Leaders can leverage DNA Behavior insights to drive smarter, behaviorally driven hiring. The same information can then be used to optimize the onboarding process.
Candidate Screening: We'll help you identify and predict the strengths, struggles, and work habits for job applicants and how they will fit with your corporate culture and the needs of your position. You'll get access to behavioral insights, interview questions, and a one-on-one consultation to practically apply behavioral science in your hiring process.
Benchmark Setting: Expanding on the hiring insights, we'll help you build custom role benchmarks. Our experienced research team can analyze any role in your organization and identify the perfect behavioral match. You'll be able to optimize the hiring process and get the right people in the right roles, right from the start.
Digital Twins: For improving the consistency of hiring and promotion decisions, digital twins can be created by cloning the decisions of the best recruiters using artificial intelligence technology. All the hiring elements that a panel of the best recruiters would consider in making their decision would be incorporated into the digital twin.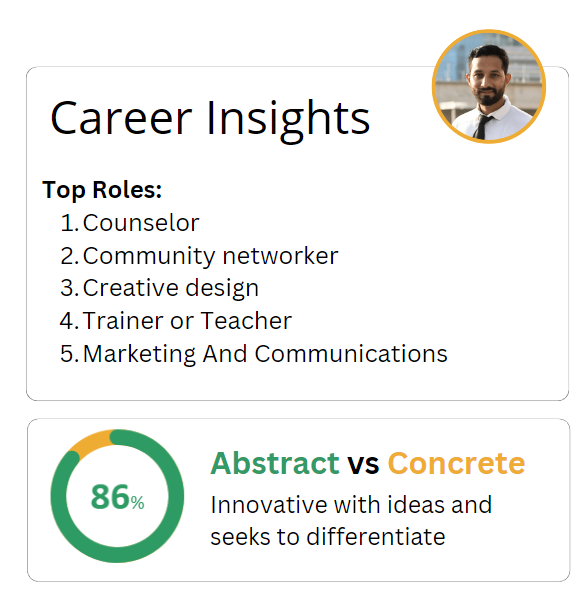 Team Performance and Talent Development
Teams function best when there is an awareness of each member's natural talents and work habits. It leads to improved communication, fosters understanding, and ultimately boosts performance. The programs we provide for teams examine each member's insights, then lead them through a more conscious team decision-making process.
Team Awareness (online or in-person): This program is designed for teams. We'll examine each person's natural behavior and workplace insights, analyze the team report, and provide a 90-minute team awareness session. Each participant gets access to their own insights as they complete the discovery. An individual debriefing with each participant can also be added prior to the team event to ensure the team is comfortable with their own results prior to sharing with the group.
Team Decision Making: In this program, participants will attend a team awareness session, then be guided through a deep study on the decision-making variability of the team. Variability in decision-making costs companies millions each year because it is hidden and unmeasured. We begin by analyzing a typical repetitive decision-making process requiring human judgment (like talent assessment, knowing a client, portfolio design, compliance, creating a budget, or planning a project timeline) for variability, then provide a readout on the opportunity for improving consistency.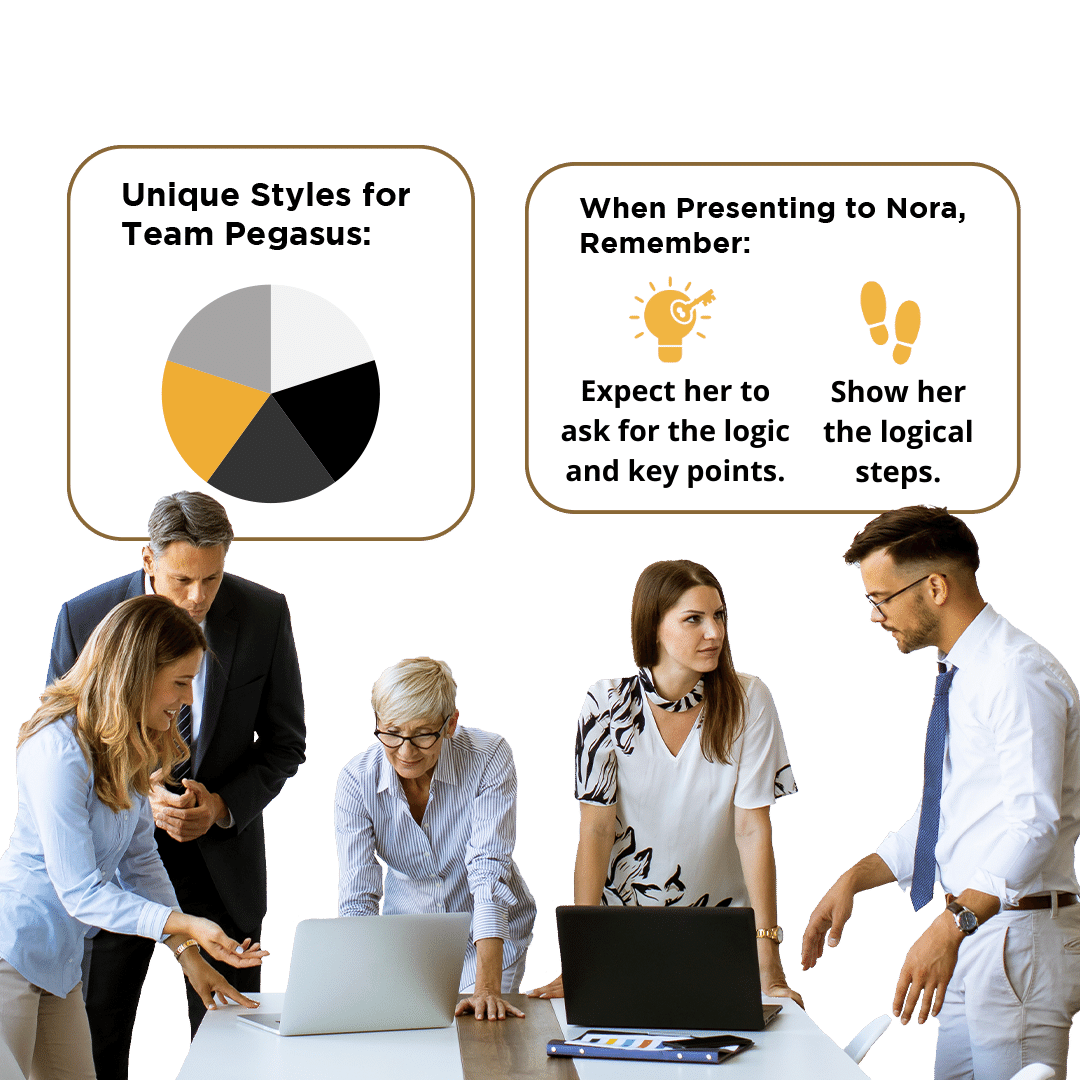 Leadership Performance Coaching
To be an effective leader, coach, advisor, or facilitator, it takes a degree of self-awareness. After exploring your own inherent behavioral identity, we provide additional insight to your work talents and leadership style, then coach you on how to use this information for yourself, your team, and your clients.
60-minute Identity Interview: We'll explore your natural work talents, workplace operations and hiring report followed by an Identity Interview, which will help you clarify your unique talents and identity.
Leadership Identity Coaching: We take a deeper dive into the details of your identity and leadership style with this one-on-one coaching program, customized to address your individual needs.
Additionally, we have specific coaching processes for advisor, sales, employee and career performance, which can be customized to meet your individual needs.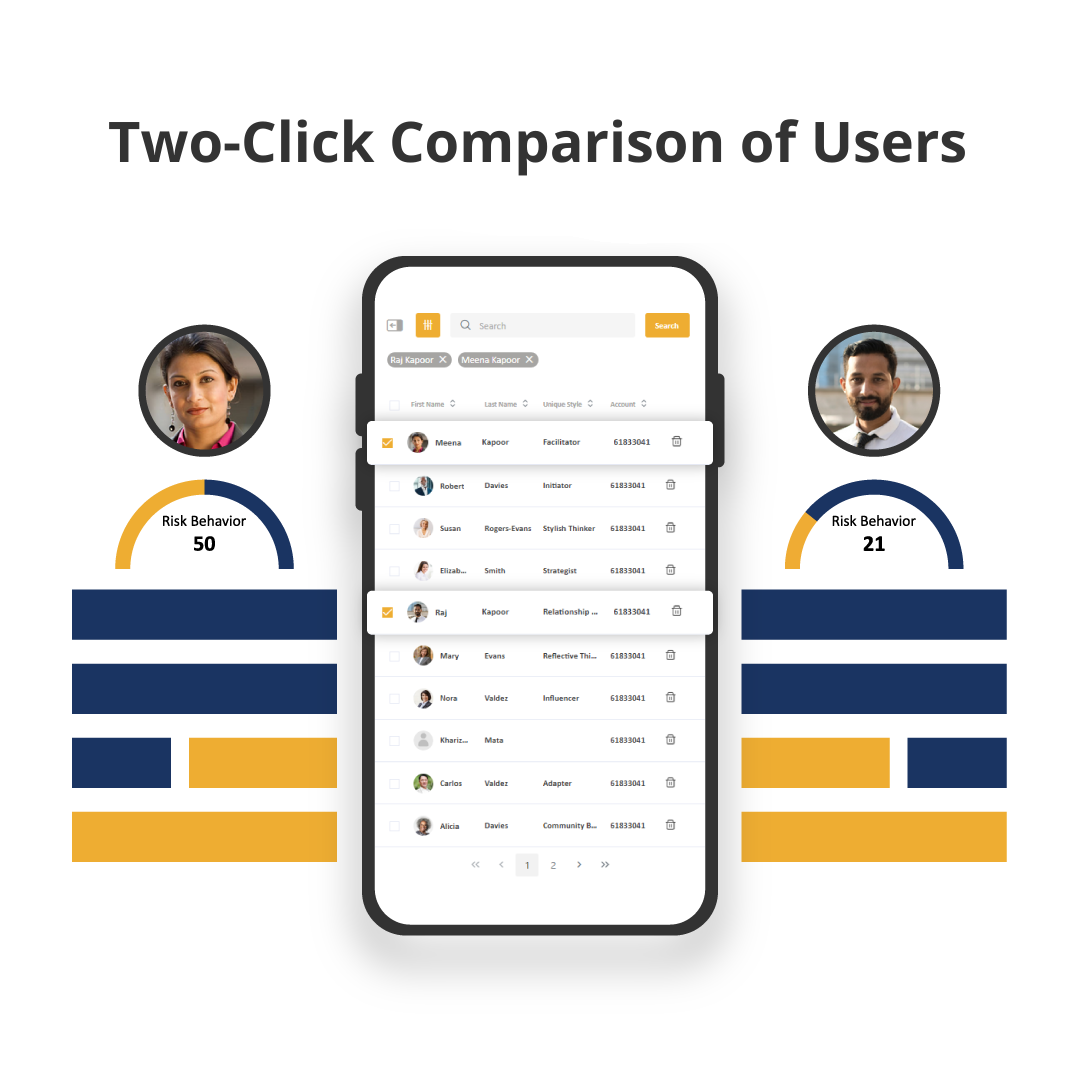 Family Facilitation for Continuity Planning
For financial planners working with families on financial plans, legacy planning, or generational transition, we offer a family facilitation package. It includes a planning meeting with the advisor to work out the agenda and goals for the meeting, a 90-minute family discovery session facilitated by a DNA Behavior expert, and a 60-minute debriefing session with the advisor to build a plan to continue working with the family based on the insights shared during the session. Expert facilitation helps you to address communication issues in the family so that trust can be built and maintained as they build a more secure future. Ongoing family facilitation services are available depending on the needs of the family.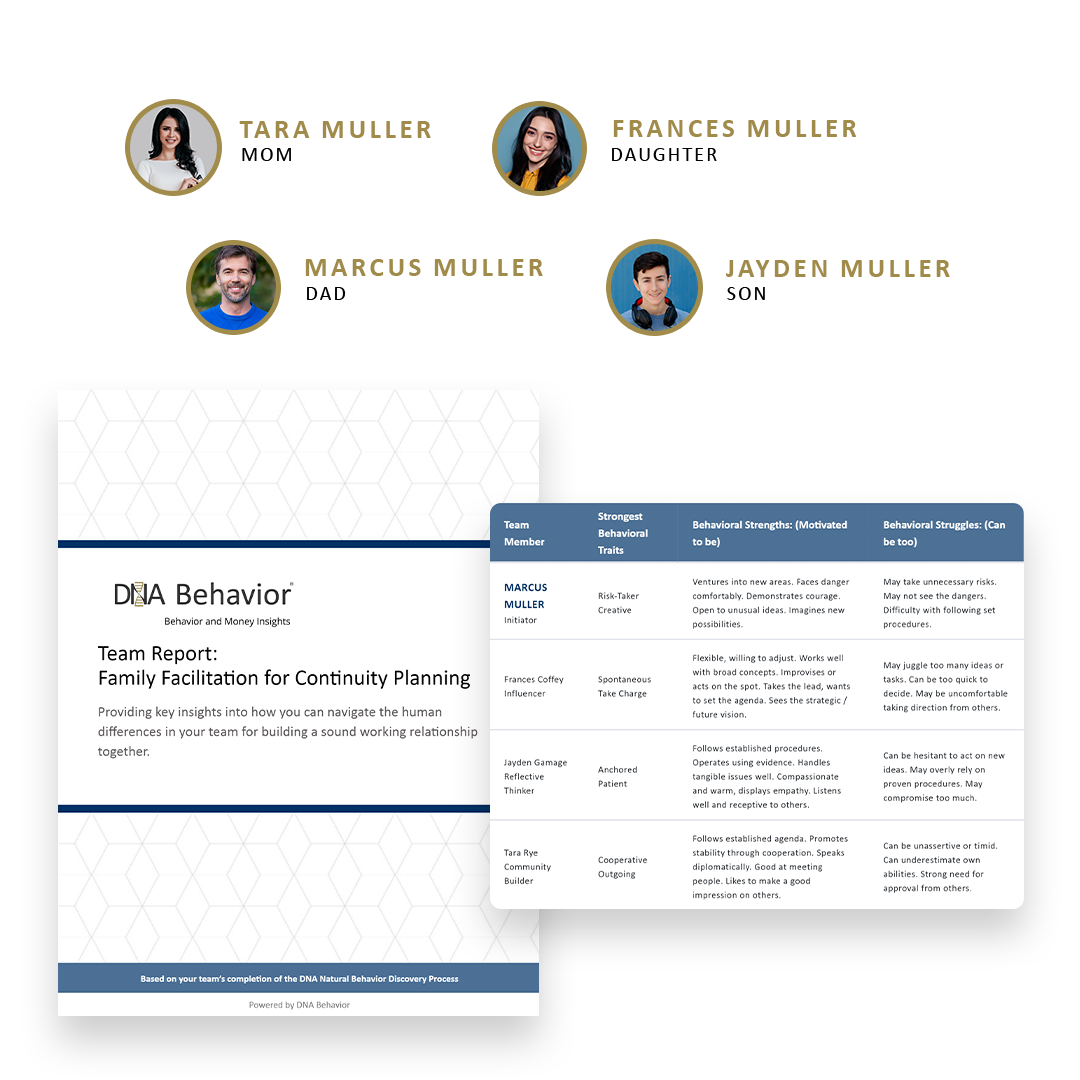 Behavior Tech Implementation
When you are not used to building an app or a tech platform, the task ahead can be daunting. Extreme clarity is required between you and the tech team, so there are no missed expectations. Consideration must be given to how the app will connect to the outside world, the design of its architecture, and your organization's workflow. Therefore, we can step in and guide our ISV partners in gaining clarity for the scope and design of their unique behavioral-based business solution which will be using the DNA API.
Keynote Presentations
Our Executive Chairman and Founder, Hugh Massie, delivers keynote presentations around the globe to demonstrate how behavior and money insights can be practically used to transform business and personal performance and decision-making. Each presentation is typically 60 minutes and can be supported by additional workshops. Topics include:
The Quantum Laws of Money Energy
Energize Your Life and Money for Long-Term Happiness, Success, and Health

Entrepreneurial Quantum Leaps
Develop Exponential Mindset Growth for Achieving Limitless Abundance

Behavioral Variability
How Biases and Noise Impair Organizational Decision-making

Leadership Financial Impact
Your Company Eats Your Financial Behavior


Boys Without Fathers
Overcoming Life Hurdles to Become a Person of Influence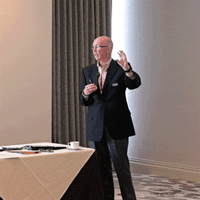 Customized "Behaviorally SMART™" Workshops
We can customize experiential workshops for your event to provide engaging, personal, and meaningful takeaways for participants. Our workshops typically cover topics such as:
Behaviorally SMART Business Decision-Making
Behaviorally SMART Financial Advice
Behaviorally SMART Leadership
Behaviorally SMART Entrepreneurship
Behaviorally SMART Careers
Behaviorally SMART Families
Behaviorally SMART Marketing
Each participant will get a personalized insight report with guidance on how to interpret and use it. Workshops may be booked whether you are a system subscriber or just interested in providing a one-time learning experience for your group.
Talk with Our Behavioral Experts
For more information about our training, facilitation, coaching, and consulting services, schedule a 15-minute call with our behavioral experts.