Work Talent Insights
Elevate the Employee Experience
Powered by Business DNA®
Put People First and Performance Will Follow
People are the foundation of any business, so understanding how they think and operate is key to optimizing performance. Thankfully, the process doesn't have to be hard. The DNA App provides instant and accurate insights that make behavior analysis approachable, practical, and easy to weave into your work activities. You'll be able to align people to jobs they will thrive in with reduced stress, form teams with just the right combination of talents, and build an enviable company culture. Plus, you'll get the benefit of our financial behavior expertise, to better understand the role money plays in the decision-making process.
Hyper-Personalization is Key
We'll help you understand how each individual approaches work, life, decisions, and money so you can customize each employee's experience. That's how growth-minded leaders build people-centric businesses!
Organizational decision-making will be far more accurate when your intuition is supported with science-based insights, which provide a deeper and more reliable understanding of what each team member inherently brings to the table.
- Hugh Massie, Chairman and Founder
Behavioral Tools for Growth-Minded Leaders
Work Talent Insights for

Building a People-Centric Culture

Insights Focused on P

ersonal Productivity, Hiring, Team Alignment, and Leadership Development
Select Financial Behavior Insights to Help Guide Practical Decision-Making
Side-by-Side Team Member Behavior Comparison

Shareable Profiles

for Introducing Team Members to Each Other
Extensive Behavioral Benchmarks for Every Role
Communication Keys for Managing Differences

The Advanced Tools of Gene AI for Connecting with Your Coworkers and Team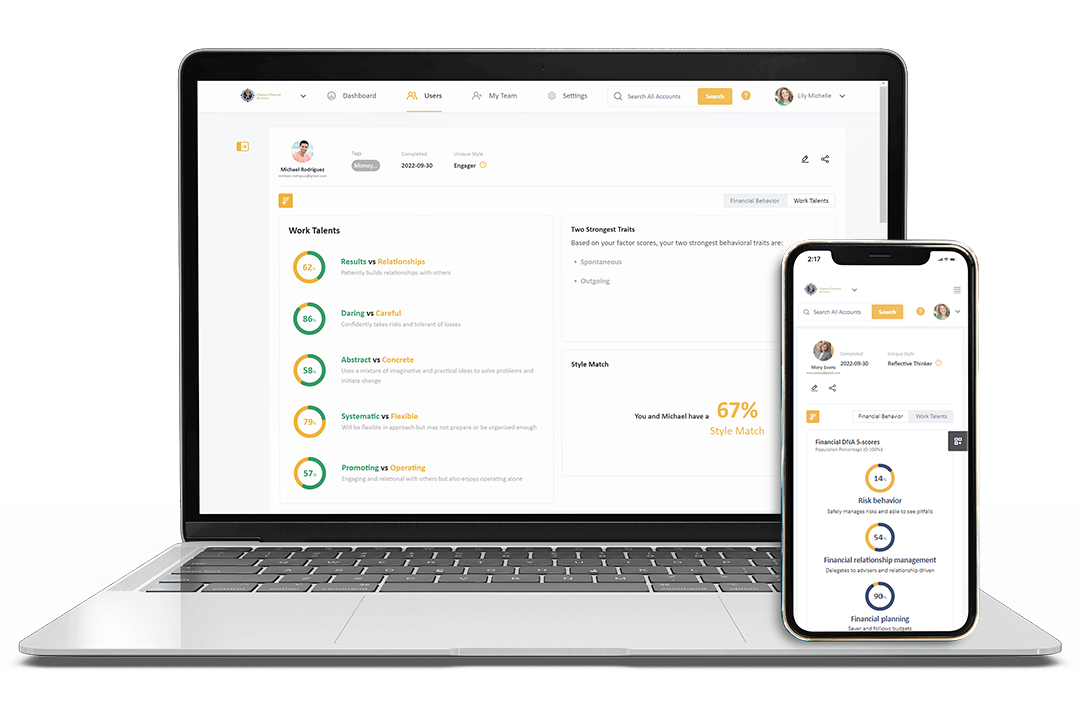 87%
Research shows that 87% of business problems are communication related caused by behavioral differences.
– Harvard, 2002
DNA Behavior insights create an awareness of self and others that leads to improved relationships.
50%
There is on average 50% variability in decision-makers making judgment calls about similar transactions and products.
– "Noise", Daniel Kahneman, 2021
Variability in high-stakes decision-making can be costly for organizations. DNA Behavior helps to measure and manage this hidden force for improved consistency. 28%
Intuition is only 28% accurate.
– "Noise", Daniel Kahneman, 2021
The DNA Natural Behavior Discovery eliminates guesswork by giving you objective data for better decision-making. Practical Applications for Work Talent Insights
Simplify Hiring and Retention
During the hiring process, the inevitable question arises, "Is this person a good fit?" You need to get the right person into the right role to meet your immediate needs while recognizing potential downstream impacts. So, we've streamlined the process by giving you practical insight that saves you time and effort as you build your organization.
The first step in sifting through the avalanche of applications is to better understand the inherent traits of the members of your applicant pool as well as your existing staff. We help you move beyond comparing skillsets and observed personalities by discovering their inherent behavior patterns and how they apply to their work style. You'll instantly know if the person has the key behaviors that are critical for success in the current role, and how they might fit in future reorganizations or team formations.
Properly aligning people in your organization is the ultimate way to build a strong culture and a high level of employee engagement. Our behavior experts can even help you define role benchmarks and design interview questions to make good hires repeatable.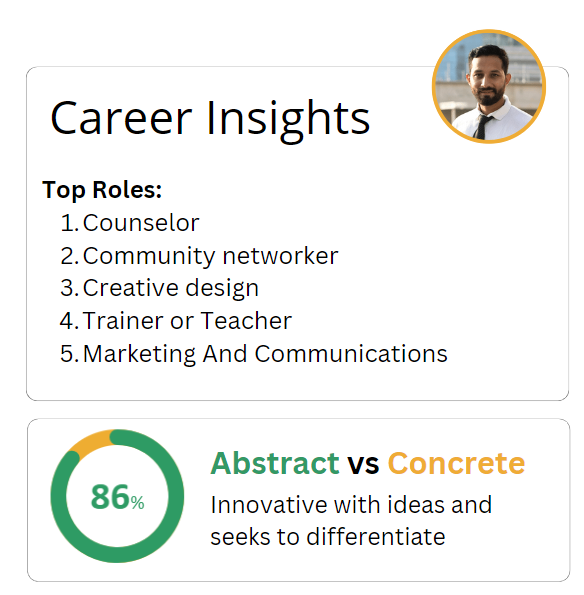 Teams with that right mix of talents and who are emotionally engaged are
more productive
– Gallup, 2010
Balance Teams with Ease
The DNA App provides a simple way to filter, align, and assign members of your organization to a team according to their inherent strengths and communication styles. In any team, you need to balance people who are visionary, growth-oriented, creative, and adaptable with those who are execution-focused, conservation-oriented, and dedicated to helping protect and sustain the business. People with the same traits will connect more easily, but it's behavioral diversity that will balance a team and provide connection to more clients. Top-performing teams have strengths in all behavior areas, offering unique perspectives and approaches to work in different functional areas. With DNA Behavior insights, you can quickly see your team's strengths, and where you may have behavioral gaps that could be important to fill.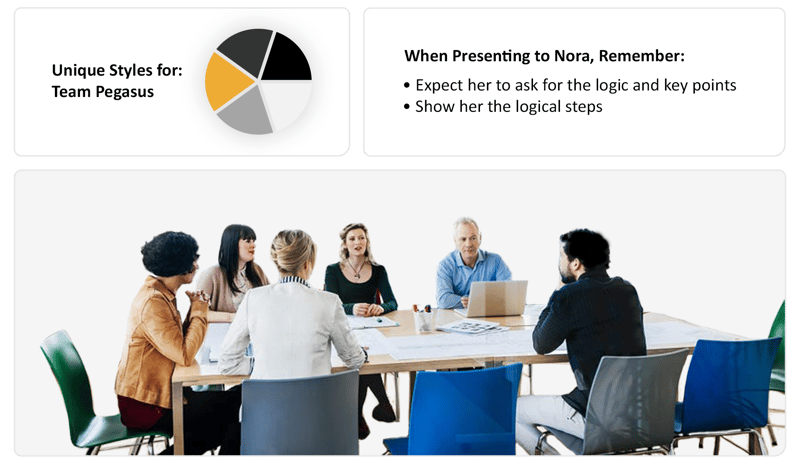 Foster Clear Decision-Making
At some stage, all teams must make high-stakes decisions that put the leader and the whole team under pressure. This could be during hiring, lay-offs, acquisitions, divesting, giving incentives, or setting targets and budgets. Behaviors intensify and money motivations kick in at these decision points. An individual's risk-taking propensity, biases with money, need for control, and speed at which they operate will have profound impacts on their approach to the situation. Our insights will help you identify and measure the behavioral biases of your team that affect decision-making, so you can plan and prepare rather than react.
Coaching Clients and Teams
One-on-one meetings with clients or team members are the key to growth and development. It's a time to clarify objectives, identify training needs, and set goals. By adding an extra layer of inherent behavioral information and customized behavioral questions to that conversation, you will be able to help them align with their strengths so they can do more with less stress. With unbiased science-based feedback, the information can be shared and discussed in a safe way using a common judgment-free language. Plus, you'll be able to adjust the scope, timing, and venue of those meetings by having a deeper understanding of each individual's needs.
Adapting to Change
Whether it's adapting to new technology, products and services, organizational structure, work environment, or processes, a balanced team needs a balance of employees who are adaptable and others who can sustain the foundation of the business. Do you know which employees in your organization are the most adaptable, and which ones can sustain necessary systems and processes? This awareness will help you prepare for organizational change and ensure your resiliency. The DNA Behavior system measures and maps behavioral insights that represent virtually every human habit, including the ability to adapt to change.
Share Business Behavior Insights with Your Team
Empower your team with self-awareness by sharing a live view of the DNA App dashboard with them. You can access it on any device and quickly navigate to the full-screen presenter mode. The user-friendly interface allows you to show them individual or team profiles with graphs, charts, and insights that are easy to understand and act on. If you want, you can even customize the colors to match your branding. You'll be giving them the knowledge they need to improve engagement and respect each other's talents at a core level.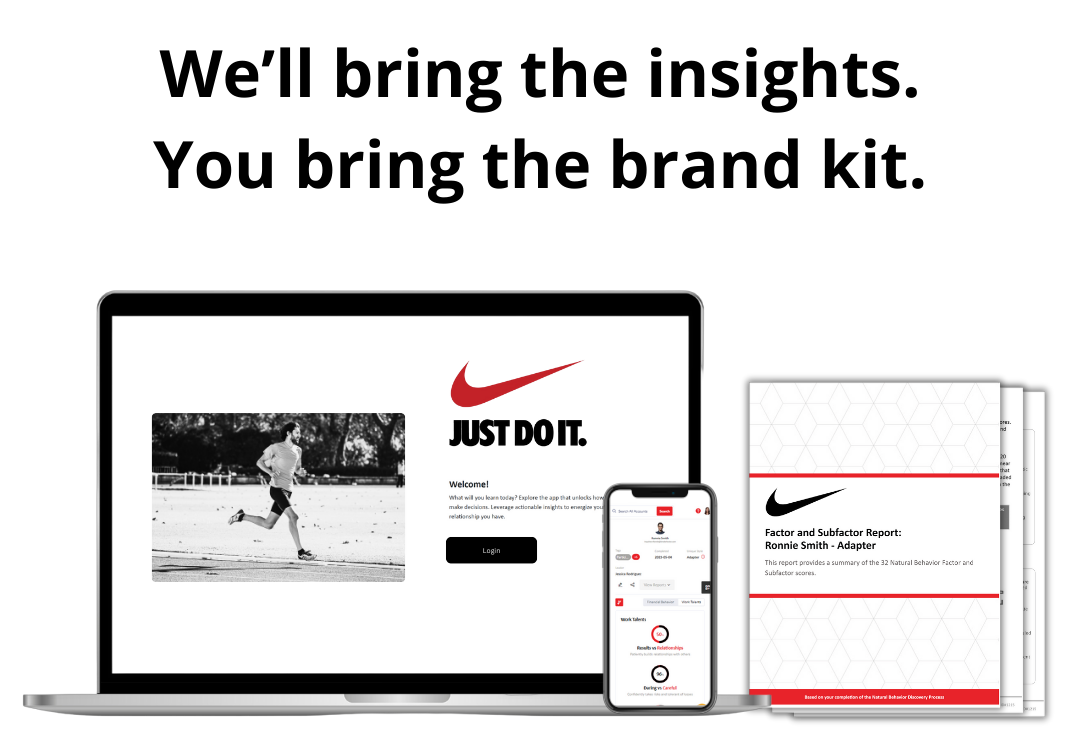 What Behaviorally Smart Business Leaders Are Saying

"I decided pretty early in my business that culture was important, and we were going to figure culture out and make it a cornerstone of how we operate. I'm so happy we did... In learning to live with the pandemic, a lot of companies who are dealing with people leaving or who are dealing with not being able to engage people long-term...for me, it comes back to not having a culture that defines who your team is and how they operate."
Kenzie Biggins
CEO, Worxbee

"I see a lot of people trying to create a new style or be something they're not, thinking it's going to get them somewhere faster or better. And in the end, I think, the more we stay true to who we are, that genuineness is a very powerful engine. Appreciate who you are. It doesn't mean you can't grow and stretch and do all these things, but if you begin to lose your inner identity on that journey, you're likely not going to get to the goals that you set out to achieve."
Greg Gerhard
Chief of Staff / Partner, Merit Financial
Take a Look for Yourself
We've made using behavioral insights a reality in 125 countries by solving significant relationship, productivity, and decision-making challenges. If you're not sure if this is the right solution for your own business, why not let us show you around?
Learn More
If you want to gain a more in-depth understanding of any topic covered on our website, be sure to visit our Resources page.
Try Before You Buy!
No credit card. No obligation. No pressure.
The best way to understand the value of our solutions is to try the DNA Natural Behavior Discovery Process for yourself. If you like what you see, you can extend your personal discovery to a free 14-day subscription trial for your business.
What are you waiting for?